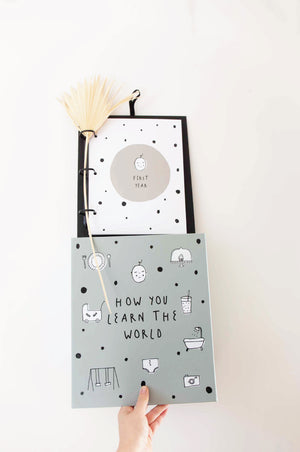 Book in the box HOW YOU LEARN THE WORLD
Sale price Price €74,80 Regular price
Include taxes
Hello, my friend.
This set includes a unisex khaki color box and books 
sections from pregnancy to the first year wonderful memories.:
"Mom and Dad"
"Baby bump"
"First-year"
Box lids are specially selected and durable materials - Vinyl, paint- thunder, The box is khaki, the inside and spiral are black. The box inside has a pocket. Under the book is a place to store your kids favorite little things, for example, first socks, pacifier etc.
The dimensions of the box are 27 x 31.5 x 9 cm
For books sections are used 190 grams of Serixio uncoated paper. The dimensions of the sections are 21x27 cm.
Write down memories and save things! Let`s create beautiful memories together!

THIS PRODUCT IS IN ENGLISH!
We recomend our buble stickers for your photos, they will give a cool accent.